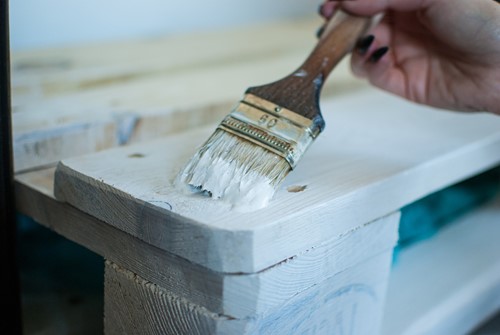 The humble coffee table is the perfect furniture piece to bring some rustic charm to your living room or porch. If you're looking to enhance your rustic design style while also stretching your DIY skills, there are many coffee table plans that can help you. Here we've put together some ideas for making your own rustic coffee tables, DIY-style.
Pallet Coffee Table
Wooden pallets are a goldmine for rustic DIY projects of all kinds. They're also perfect for making your own reclaimed wood coffee table. There are several different designs you can choose, including stacking multiple pallets, adding a piece of glass on top of the pallets to prevent items from falling through the open slats. Another idea is to take the pallet apart completely and rebuild a new surface with the planks. This will create an even surface that's completely customizable as long as you have the right power tools. You can paint the wood planks in a white or pale gray for a softer rustic look, or keep the wood bare. Don't forget to sand carefully to avoid splinters.
Reclaimed Window Coffee Table
Clear-topped coffee tables are great for storage and for creating visual interest with a utilitarian piece of furniture. While you could build your own coffee table with a simple pane of glass on the top, another idea is to use an old window. If you're lucky enough to have the right size wooden window frame with sturdy glass, you can create a table with it by placing it on top of a shallow wooden box. Keep the box open at the top so you can store or display items under the window. For ease of access, you can attach the window to the box with hinges. This will let you open and close it easily to get to the items within. With this project, you'll have a unique rustic style coffee table that's as functional as it is versatile.
Wire Spool Coffee Table
If you prefer round rather than rectangular tables, opt for a wooden table made from an old wire spool. Wooden spools are easy to find in salvage, recycling centers or even second-hand stores. While simply turned on its side a spool might seem to work as a perfectly fine table already, there are some upgrades you'll want to consider. One would be a careful sanding of every surface and edges to prevent splinters. There may also be stains, writing or other markings on the spool that you can remove with a sander. If you're concerned about water stains from cups or glasses, give the surface a coat of protective wood stain or paint. Once you have your spool cleaned up and ready, you'll have an excellent rustic table made almost entirely of recycled materials.
These are just a few ideas for making your own coffee tables to add and enhance rustic style. The versatility of these table plans make them great for beginners and DIY experts alike and will give you the satisfaction of using reclaimed materials and your own hard work and effort.